Kung Pao Chicken or Kung Paw Chicken is one of the famous Chinese cuisine. But what is in Kung Pao Chicken exactly and what ingredients you need to use to cook this delicious dish? Today I am going to tell you what is in Kung Pao chicken and the recipe that you can use to cook this dish.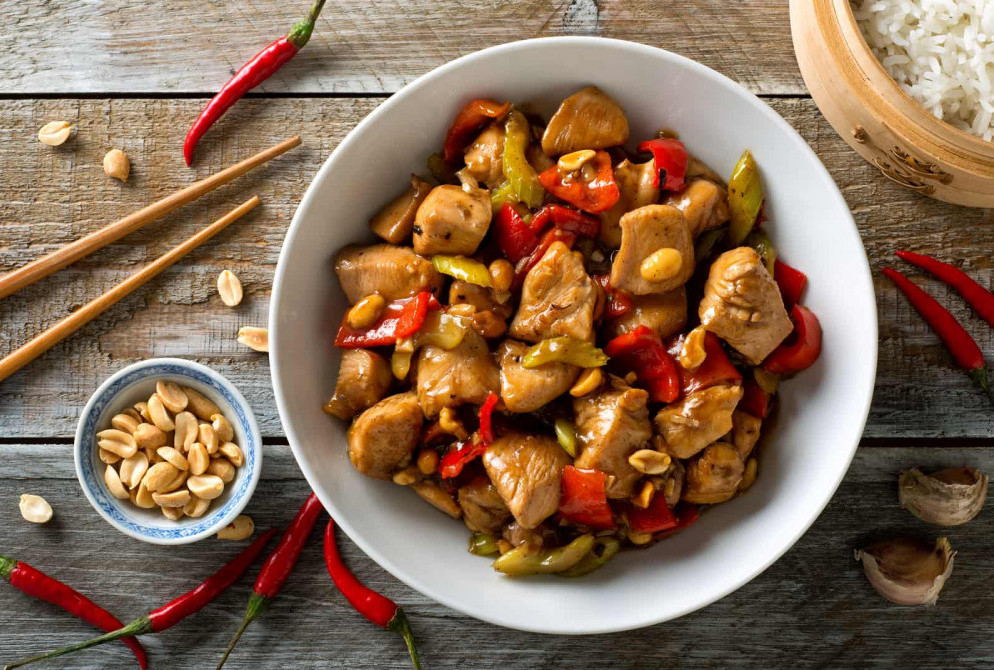 Kung Pao Chicken Description  – What is Kung Pao Chicken?
Kung Pao Chicken (Chinese: 宮保雞丁)  is a famous Sichuan dish that originated from Qian cuisine and spread to other parts of China and became a traditional Sichuan cuisine. When we look at Chinese history, Kung Pao chicken was invented by Ding Baozhen during the Qing dynasty. This was a dish that he asked his home chef to cook when he welcomed guests to have meals in his home. The title of Ding Boazhen was Tauzi Shaobao, which is one of the Gongbao (Chinese:宮保) (also called Palace Guardian); therefore the name of this dish was derived from this title, combine with the word chicken (Chinese: 雞) and his surname Ding (丁), which also mean a small cube in Chinese, to make the name as Kung Pao Chicken (Chinese: 宮保雞丁).
What is in Kung Pao Chicken?
So what is in Kung Pao Chicken? The main ingredients of this dish are:
cubes of chicken breast,
toasted peanuts
vegetables / spring onions
chili peppers
ginger
Here is an easy recipe for you to follow on how to make Kung Pao Chicken (Some also spell as King Pow Chicken).
Kung Pao Chicken Recipe

Ingredients for 4
For Chicken: 
700 gr. of chicken breast
2 – 3 fresh chili peppers
80-gram toasted peanuts (unsalted)
1 fresh ginger or 1 tbsp of ginger powder
1 fresh spring onion
2 cloves of garlic
2 tbsp of cornflour
2 tbsp of cane sugar
3 tbsp of extra virgin olive oil
1 pinch of salt
Some dry
For the sauce: 
1 tsp of Chili powder
1/2 Glass of water
1 tsp of Cornflour
4 tbsp of Soy sauce
1 tbsp of rice vinegar
1 tsp of cane sugar
Instructions: 
To prepare the Kung Pao chicken, start by cutting the chicken breast into small pieces.
 Put them on a plate and add the grated or powdered ginger and cornflour.
Stir a little, then combine the brown sugar and peeled garlic cut into large pieces.
Stir again, cover with the film, and put the mixture in the fridge for at least 30 minutes.
Meanwhile, prepare the other ingredients.
Wash the chili pepper and spring onions, cut it into thin slices.
In a wok or pan with high edges, heat two tablespoons of oil, then cook the chili peppers for a couple of minutes.
Remove the mixture from the fridge, take the chicken pieces from the plate then combine the chicken with peppers and cook for 5 or 6 minutes, turning the chicken pieces often.
When it is soft and golden, remove the wok/pan and keep it warm.
In a glass bowl or jug, mix all the ingredients needed for the sauce, taking care to mix well to melt the cornflour.
Then pour the sauce into the pan with the chicken bake and cook.
As soon as it begins to thicken, add peanuts, spring onions and cook for two minutes until the sauce is dense.
Serve the Kung Pao chicken right away, with some rice.
Join our list
Subscribe to our mailing list and get interesting stuff and updates to your email inbox.