What is Fotomaki sushi rolls or Fat roll? [Special Combination Tips]
Sushi is a popular Japanese cuisine around the globe. There are many types of sushi and one type of sushi called Futomaki or fat roll. I'm going to tell you what is futomaki sushi roll /fotomaki definition and what is the best combination you can use to make fotomaki.
What is futomaki? (Futomaki definition)
Futomaki sushi also named fat roll. They look like regular maki but they are quite a bit larger in diameter – easily in inch and a half or two inches. It is thicker than hosomaki with nori on the outside and made with several ingredients to complement each other as a filling. You need to cut the rolls into bite-sized pieces when served.
Futomaki or fat roll normally contains several ingredients, mostly vegetables, and is designed in part to enhance their kaleidoscopic appearance.
Futomaki size
Futomaki is 4-6 cm diameter in general. You can put a mix of 3 or more ingredients as a filling before you roll it.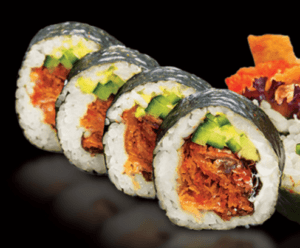 What futomaki filling you can use?
There are many ingredients that you can mix together to make the futomaki sushi roll. Here are the list of ingredients that you may consider to use as part of the filling:
cucumber relish
avocado
kanpyo (marinated calabash)
tamago omlette
sushi-grade salmon
smoked salmon
grilled salmon
cooked prawns
baked salmon
crab sticks
smoked mackerel
crab meat
cooked cod
tobiko caviar
tuna chunks
sweet potato
red pepper
chilli jam
asparagus
shiitake mushrooms,
mango
Philadelphia cheese
sun-dried tomatoes
mozzarella cheese
oshinko radish
roasted butternut squash
Best combinations of ingredients to make Futomaki
Here are some of the recommended combinations that you can use to make special futomaki sushi.
Sake Philadelphia Maki – Salmon/smoked salmon, Philadelphia soft cheese, avocado, lettuce
California futomaki – Crab stick, avocado, cucumber, lettuce, tobikko caviar, mayonnaise
Ebi Maki – Cooked prawn, cucumber, mango, tobikko caviar, lettuce, mayonnaise
Kunsei Sake – Smoked salmon, marinated calabash kampyo, cucumber, Philadelphia cheese
Sake Yaki – shiitake mushrooms, roasted salmon, kabayaki sauce, lettuce
Spicy Sake – Salmon/smoked salmon, mayonnaise, cucumber, lettuce, sriracha or spicy sauce
Yasai – Shiitake mushrooms, marinated oshinko radish, marinated calabash kanpyo, tamago omelet, cucumber
Join our list
Subscribe to our mailing list and get interesting stuff and updates to your email inbox.