What is Mung Bean Dal?
Mung beans dal is one of the healthy cuisines in Asia. Mung beans also called Vigna radiate, is a small green bean that belongs to the legume family. Mung bean is native to India but later become popular in China and many parts of Southeast Asia country. Dal is a type of thick lentil stew in South Asia.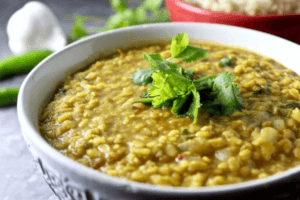 Mung Bean Dahl Recipe
Serves: 4-6
Ingredients
1 cup dried mung beans
4 cups water, divided
1 tablespoon butter
1 tablespoon oil
1 teaspoon cumin seed
1 teaspoon ria seed (small black mustard seed)
2 cups Tomato Gravy
Ingredients to make 2-4 cups tomato gravy
4 medium tomatoes, 2 teaspoons salt
2 cloves garlic, peeled
3 teaspoons turmeric powder
Instructions
Add mung beans, 2 cups water, and butter to a 4–6-quart

pressure cooker. Cook at medium heat until the mung beans have become very soft, about 10–15 minutes.

In a medium sauté pan, heat oil over medium heat and add cumin and ria seeds. Cook for 4–6 minutes, or until theseeds start to pop. Make sure they don't burn.

Make tomato gravy: Combine tomatoes, salt, garlic, and turmeric powder and blend

until smooth.


Add Tomato Gravy. Add mung bean mixture and 2 cups 

water.

Cook about 5 minutes longer.


Serve hot.
Other Recipe:
Join our list
Subscribe to our mailing list and get interesting stuff and updates to your email inbox.