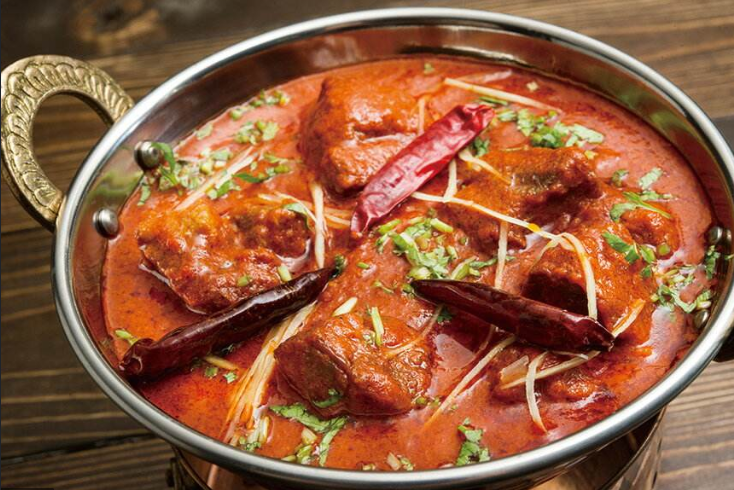 Ingredients
1 tablespoon olive oil

1 medium onion, peeled and chopped

 

1 teaspoon cumin seed

 

1 tablespoon garam masala

 

1 teaspoon turmeric powder

 

¹⁄4

 

teaspoon

 

chili

 

powder

 

(optional)

 

1 teaspoon salt

 

1 teaspoon granulated sugar

 

1 teaspoon garlic-ginger paste (homemade or store-bought)

 

1 cup chicken stock, plus extra as needed

 

14 ounces canned diced tomatoes

2 pounds lamb (or root vegetables or tofu)
Vegetable Variation 
If you are making a vegetable-only curry, the sauce needs to be cooked a little longer and be reasonably thick before adding the vegetables compared to a meat-based curry. This is because vegetables cook more quickly than meat.
Instructions
Add oil and onion to a large sauté pan. Fry onion over medi

um heat for 3–5 minutes, and then add cumin seed.

Add garam masala, turmeric, and chili powder (if using),

 

and fry 1 minute.

Add salt, sugar, garlic-ginger paste, chicken stock, and toma

toes.
Cook tomato mixture until it thickens into a paste-like consistency, up to 20 minutes. Make sure to stir so the mixture

 

doesn't burn.

Let it simmer 1–2 hours on very low heat.

Now add meat (or vegetables) and cook on low until the meat (or vegetables) is tender and cooked through (make sure lamb reaches 145°F).

 

You may need to add additional stock as the sauce con

denses down.
Notes
This is a good recipe for indian curries. Lamb has been used in this curry. If you don't want to use meat, you can use tofu, beans, or vegetables instead.
Join our list
Subscribe to our mailing list and get interesting stuff and updates to your email inbox.